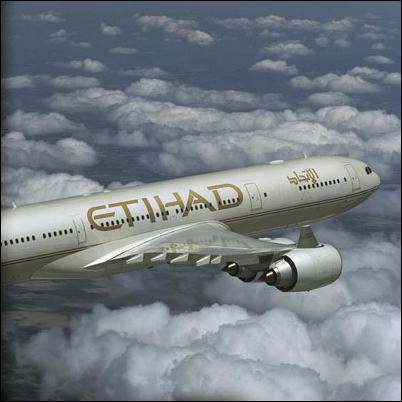 Etihad Airways

has revealed further changes to its Winter 2007-08 timetable. The changes are not only frequency related but capacity as well.
The major highlights are as follows :
A 320 destinations - include KHI, COK, TRV, KWI, BAH, BEY, MCT, DOH, AMM, DAM, IKA & CAI.
BRU & GVA - both cities to get an additional 4th weekly flight using an A 332.
MNL - increased from 4 weekly to daily flights effective 4th October. All flights to be flown with a B 773ER.
SIN/BNE route - to be upgraded from a 3 weekly A 332 to a 3 weekly B 773ER service from Nov 25th.
LHR
- to be increased from 14 to 19 weekly flights i.e. daily A 346 + daily A 332 + 4 weekly A 345s.
BAH
- to be increased from double daily to 4 times daily all using an A 332.
DUB
- to be increased from 4 to 6 weekly flights.
MCT
- to be increased from daily to triple daily flights i.e. 2 daily A 332s + daily A 320.
FRA
- to be increased from 7 to 10 weekly flights all using an A 332.
Analysis :

From January 1st 2008, COK & TRV will receive the A 320s nonstop from AUH which isn't a good move. These 2 Kerala markets see high density demand year round to AUH and other cities within the GCC in addition to having a large air cargo industry. This is because of the huge expat Keralite labor population (approximately 1.2 million in the GCC) residing not only in AUH but all across the GCC. FYI, the population of Keralites in the GCC are highest in DXB, AUH & KWI.
By flying smaller planes compared to the competition flying larger wide bodies (EK B 772s/A 332s, KU AB6/A310), EY risk losing not only market share from the passenger side but also from the cargo side as the A 320 can only carry 4 tonnes of cargo which is 8 tonnes less than what can A 332 can carry in its belly. Currently EY flies A 332s & A 343s to Kerala nonstop from AUH and it should remain that way. EYs in-flight product on board its A 332 is far superior to the A 320 which will not please the Keralites working in AUH especially.