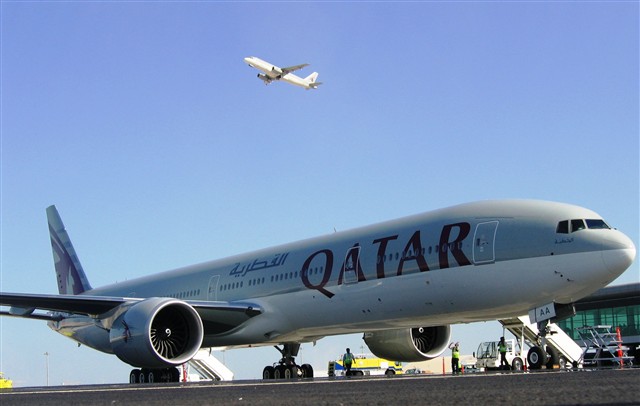 Qatar Airways has revealed ambitious expansion plans for its route network in 2009 with the launch of new nonstop flights to Australia, new destinations in India to be launched, 2 un-named European destinations and lastly a reconfiguration of its Airbus A 340-600 cabin capacity. With regards to Australia, QR's CEO has confirmed that new daily nonstop flights will be flown to Sydney and Melbourne respectively from its Doha hub effective October 2009. Both cities will be served using QR's 2 class configured Boeing 777-200LRs which seat 259 passengers.

As far as India is concerned, the states of Qatar and India have managed to successfully amend their air bilateral accord with the addition of Amritsar and Goa as the cities in India that QR can fly to nonstop from its Doha hub. No mention of how many flights per week QR has been allowed to fly into ATQ and GOI respectively but one imagines it is a daily frequency. To GOI, QR will be using an A 320 where as ATQ might get an A 321 or A 320.

With regards to its A 346 cabin, QR's CEO has officially confirmed that it will be removing its First Class lounge on board this aircraft and replacing its space with the addition of 44 economy class seats which will increase the capacity of its A 346 by 16% i.e. from 266 to 310 seats.

Lastly, with regards to its Doha-Moscow route, capacity on it will be reduced from 5 weekly A 332s to 5 weekly A 320s effective June 2nd 2009.

Analysis:

They say that "patience is a virtue that few possess" and its safe to say that QR's CEO and its management team exemplify this analogy. Since 2003, QR has been lobbying aggressively for adequate access to Australia enabling it to compete effectively against SQ/EK/TG/CX/BA on the "Kangaroo route". In 2007, a bilateral between Qatar and Australia was signed which allowed daily access to MEL and BNE only but QR was admamant that SYD be included in it and didn't want to launch its Aussie venture without having SYD on board. The flame was further fueled when it was revealed that EY got rights to fly into SYD before MEL in 2007 due to the close links that their CEO Mr Hogan has with the Aussie Govt. QR still stuck to their guns and did not want to launch Australia bound flights until their demands were met. In the end, the long wait and QR's perserverance sure did pay off for the airline's long term benefit.

Flight timings to SYD/MEL should be as follows:

Dep DOH 2350 Arr MEL 1750+1 /// Dep MEL 2230 Arr DOH 0630
Dep DOH 2330 Arr SYD 1900+1 /// Dep SYD 2210 Arr DOH 0545

**These flight timings mentioned above allow perfect connections via DOH in both directions to LHR, MAN, CDG, FRA, DXB, CAI, AMM, BEY, ATH, proposed BHX/DUB (mentioned below), IST, MXP, FCO, DME, TXL and VIE which should be enough to fill up the flight on a year round basis.

As far as its 2 un-named EU destinations are concerned, already the rumors are flying across the internet what they could be. Most people think that WAW-Warsaw, Poland with an A 320 is a sure bet along side one other city such as BCN-Barcelona. However, if these rumors are deemed to be creditable, then QR are making a huge mistake. QR's EU plan for 2009 should be as follows:

a) Suspend all flights to LGW-London Gatwick from Oct 1st 2009 as the route is a huge loss maker for the carrier. There is absolutely no financial logic what so ever to continue flying the route just for prestige purposes and to compete against EK. It should follow EY's decision in 2007 to suspend the route before the losses grow as it serves the LON market adequately with 4 times daily service into Heathrow which is more than adequate.

b) As its replacement, the daily A 332 (2 class configured) that is currently being used for DOH-LGW flights should be deployed on launching new Doha-Birmingham (BHX) flights on a daily basis. The reason for this is that BHX will prove to be a huge 'feeder' destination for its new ATQ bound flights as well as contribute decent volume of traffic bound for ISB, DEL, BOM, LHE, CMB, DAC, HKG, KHI, China, KUL and IKA via DOH. It can also contribute passenger on board QR's new SYD/MEL bound flights. From BHX, QR's primary competitor will be EK and to Pakistan its PIA. AI suspended BHX flights in 2008 and thus lost its monopoly on the BHX-ATQ/BHX-DEL route which saw good loads year round. The UK Midlands region needs a second 'quality airline' to serve the region with wide bodied aircraft heading eastwards to the ISC and Asia-Pacific region and QR fits that role perfectly. To/from BHX, the flight timings should be follows:

QR XXX Dep DOH 1300 Arr BHX 1745...aircraft should over night in BHX
QR XXX Dep BHX 1000 Arr DOH 1900

**These flight timings mentioned above allow perfect connections via DOH in both directions to India, Pakistan, Australia, HKG, SIN, DAC, CMB, DPS, KUL, PEK, PVG, KIX, CGK, CAN and GCC. This should be enough to fill up the flight on a year round basis.

The new DOH-ATQ-DOH flights should be timed as per the current timings of its DOH-DEL-DOH service.

c) The second EU destination that needs to be launched by QR with the A 332 taken off the Moscow route should be Dublin, Ireland on a 5 weekly basis using a 2 class A 330-200. The primary reason for this is to help fill its SYD, MEL and HKG bound flights as there is a lot of demand from Ireland to these 3 cities especially Australia. One just needs to look at the feeder traffic that EY/BA/QF/CX/SQ get from their LHR and direct DUB bound flights to Australia from Ireland which would justify this statement. To DUB, QR's flight schedule should be as follows:

Dep DOH 1100 Arr DUB 1535...aircraft should overnight in DUB
Dep DUB 1000 Arr DOH 2000

**These flight timings mentioned above allow perfect connections via DOH in both directions to India, SYD, MEL, Pakistan, Australia, HKG, SIN, DPS, KUL, PEK, PVG, KIX, CGK, CAN and GCC. This should be enough to fill up the flight on a year round basis.